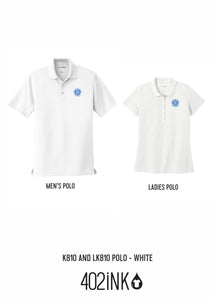 Order Deadline: Extended until Monday 9/25 at 11:00AM CST. No Late Orders Allowed.
Items: Available for pre-order is a Port Authority Polo in white. Available in both a ladies fit and Men's Unisex fit. Please note that ladies polo's tend to run smaller than anticipated. Embroidered with an Autism Family Network - Lincoln, NE logo on the front left chest.
Delivery: This is a pre-order and production does not begin until after the 9/21 order deadline. There are two delivery options. You can select the paid shipping option and your order will be shipped via USPS by 10/10/22 Or you can select the free option and your order will be delivered in bulk to the AFN Lincoln, NE office. If you select the free option you are responsible for picking your order up after 10/10/22.
Fundraising: If more than 24 embroidered items combined are ordered there will be a donation to AFN.